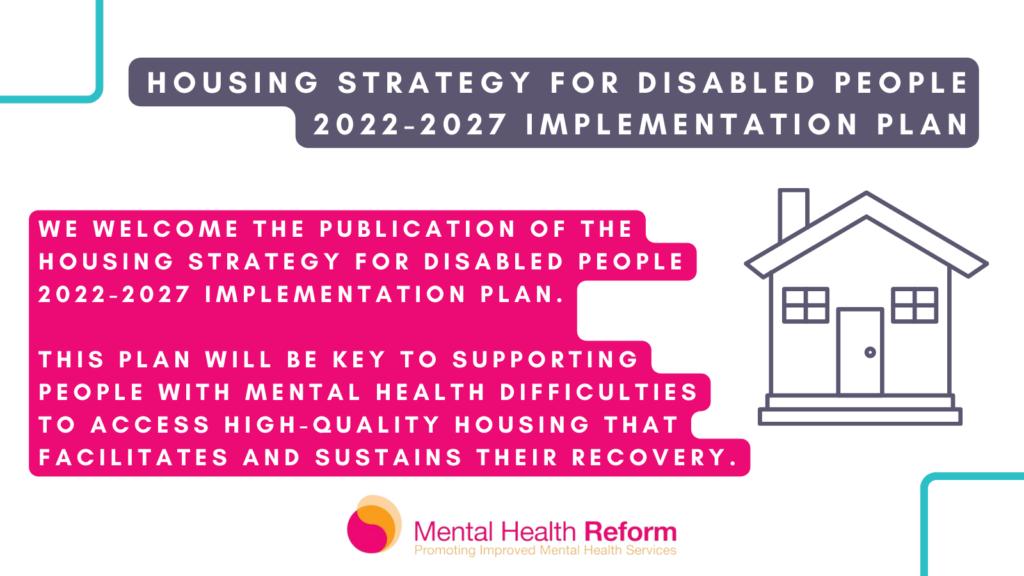 Mental Health Reform welcomes the publication today of the Housing Strategy for Disabled People 2022-2027 Implementation plan.
The Housing Strategy for Disabled People 2022-2027 places a greater emphasis on independent living and community inclusion. It aims to facilitate disabled people to live independently with the appropriate choices and control over where, how and with whom they live.
The strategy was originally published in January 2022. The implementation plan has been published today following a year-long delay.
Under the strategy, local authorities will be required to meet annual targets to ensure that social housing is allocated to disabled people with appropriate health and social care support services.
Commenting on the publication of the implementation plan, Fiona Coyle, CEO, Mental Health Reform said:
"This implementation plan represents a key development for people with mental health difficulties.
People with complex mental health needs often face significant barriers to accessing housing including poverty, discrimination and addiction issues. Many people with enduring mental health problems are living in congregated housing, homeless accommodation or long-term residences in acute hospitals.
People with psychosocial disabilities need secure high-quality housing to facilitate and sustain their recovery. This plan will enable people with complex mental health needs to move into their own homes and live independently in the community with appropriate supports.
We welcome the focus on enhanced coordination between housing, health and social care. There must be effective co-operation between mental health services and local authorities who provide social housing. Local authorities need to ensure that people can access appropriate housing that meets their specific needs.
Tenancy supports are key to helping people with mental health difficulties sustain their tenancies. Despite growing demand, government funding for tenancy support services has not increased in over seven years. The extension of the Tenancy Sustainment Officer role nationally will be critical to supporting people to stay in their homes and avoid the risk of hospitalisation or homelessness.
Equal opportunities, individual choice and independent living must be available for all people with mental health difficulties. We look forward to working with the Ministers, their Departments, the Housing Agency, the HSE and all of the key stakeholders to support the implementation of this vital strategy."