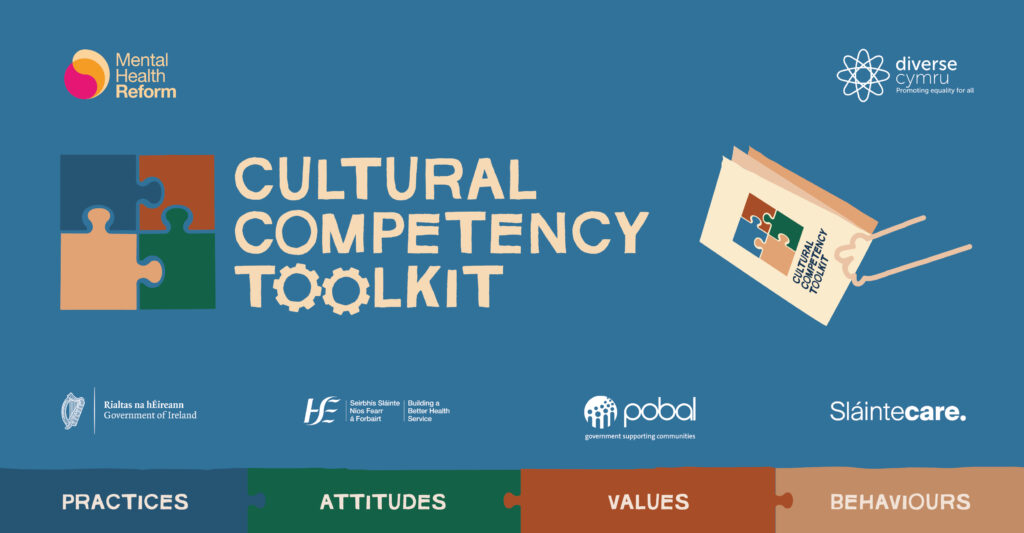 On Wednesday, 27th October 2021 we launched the Cultural Competency Toolkit. The event aimed to raise awareness of the challenges that ethnic minority groups face in accessing appropriate mental health supports. Speakers shared practical information, resources and guidance, to help community mental health teams to implement the Toolkit in their workplace practice.
Speakers included:
Dr. Naomi Masheti – Programme Coordinator, Nano Nagle Place and Project Steering Group Member
Dr. Charles Willie – Former CEO, Diverse Cymru and author of the Cultural Competency Toolkit
Poetry from Feli Speaks
Dr. Pauline Moloney – Senior Chartered Clinical Psychologist, Cabra Community Mental Health Team
Members of ethnic minority communities with lived experience of mental health difficulties.
A recording of the event is available below.
Cultural Competency Toolkit
A practical guide for mental health professionals, services, and staff on working with ethnic minority communities in Ireland
Research tells us that there is a higher incidence of mental health challenges amongst people from ethnic minority communities. The Cultural Competency Toolkit is structured around the importance of providing culturally sensitive mental health services and seeking to ensure equitable outcomes, for ethnic minority communities.
The Toolkit was developed in partnership with the Welsh pan-equality organisation Diverse Cymru. An expert project steering group of representatives from key stakeholder groups oversaw the project. It includes tips, information, professional skills, personal attributes, recommended practices and guidelines for mental health professionals, services and staff who work with ethnic minority communities in Ireland.
Click on the buttons below to access the entire Cultural Competency Toolkit and the One Page Overview.