Innovation in Youth Mental Health – Meeting Young People Where They're At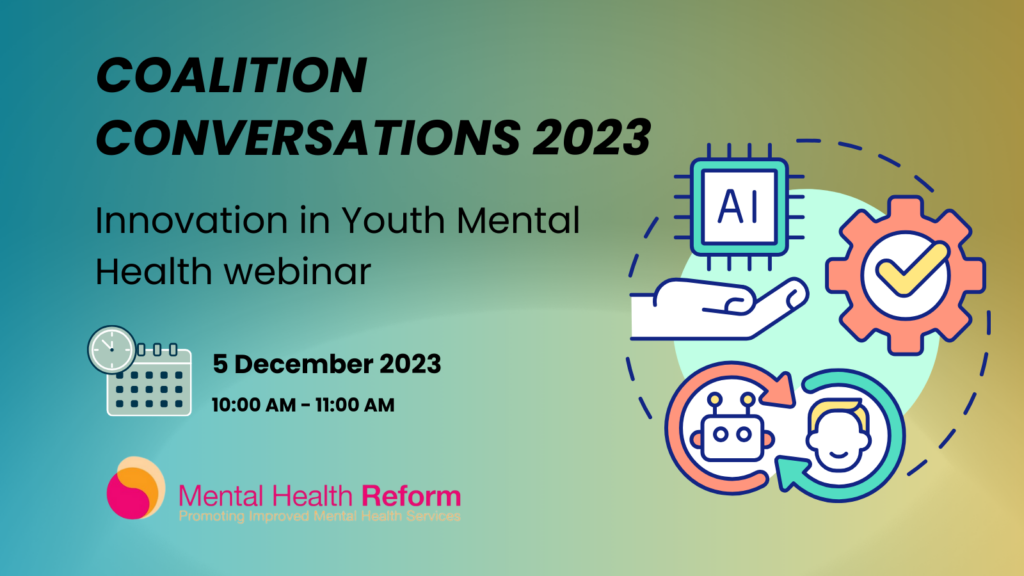 Join Mental Health Reform at 10am on Tuesday, 5th of December for a webinar on "Innovation in Youth Mental Health".
This webinar will platform the work of voluntary and community organisations who are finding innovative ways to communicate and assist children and young people who require mental health supports. It will feature presentations from experts in the mental health sector, which will be followed by a Q&A session.
Irish Sign Language interpretation will be provided for this webinar.
Speakers included: 
Fiona Coyle, CEO, Mental Health Reform
Ian Power, CEO, spunout
John Church, CEO, Irish Society for the Prevention of Cruelty to Children
Youth Volunteer, spunout
Topic: Innovation in Youth Mental Health – Meeting Young People Where They're At
When: Tuesday, 5th December 10am – 11am
Where: Webinar via Zoom
Register via the button below!
NB – Make sure to "pin" the Irish Language Interpreter at the start of the webinar by following these steps:
1. At the top of your meeting window, hover over the video of the participant you want to pin and click …
2. From the menu, click Pin.
Use Your Voice – The Power of Lived Experience in Effecting Positive Change
We were delighted to collaborate with See Change to mark Green Ribbon month which focuses on the theme of judgement. Across the month of September, See Change explores what mental health judgement is, where it shows up across society, how judgement impacts people with mental health difficulties, and what we can all do to help end the unfair judgement of ourselves and others.
This webinar explores how speaking openly about our experiences of mental health can help to challenge the judgement of mental health difficulties. 
Talking about mental health plays a vital role in getting mental health on the political agenda. Telling your story and sharing lived experiences of mental health difficulties can help to create positive change in our mental health system. Lived experience has the power to inform and improve mental health services and supports.
Speakers discussed the importance of information and education on mental health and recovery and the positive role it plays in addressing judgement and stigma in society.
Speakers included: 
Fiona Coyle, CEO, Mental Health Reform
Nicola Byrne, CEO, Shine
Dr Donal O'Keeffe, Recovery Coordinator, ARCHES Recovery College
Brodie Thompson, See Change Ambassador
Paddy McGowan, Expert by Experience
Social Prescribing and Mental Health
Social prescribing is a service aimed at adults who may experience social isolation and loneliness such as older age groups, people with chronic health problems and people with mental health difficulties and psychosocial needs. The HSE is currently expanding social prescribing across Ireland to ensure the service is available in every county by the end of 2023.
The webinar explored the impact and barriers to implementation of social prescribing in Ireland, particularly as it relates to the voluntary and community mental health sector and recovery focused mental health care.
We also launched our new briefing paper on Social Prescribing and the Voluntary and Community Mental Health Sector at the webinar. 
Speakers included: 
Orla Walsh, Project Manager, Mental Health & Wellbeing programme, HSE

Sarah Sheridan,

Social Prescribing Link Worker, "Flourish Social Prescribing service" at The Family Centre

Teresa Keane, Development Officer, Mental Health Ireland
Suzanna Weedle, Policy & Advocacy Coordinator, Mental Health Reform