THIS FUNDRAISER IS SOLD OUT
Fishamble: The New Play Company presents Silent by Pat Kinevane in aid of Mental Health Reform on Friday 4th December 2015 at 6.30 pm in the Unitarian Church, 112 St. Stephen's Green, Dublin 2.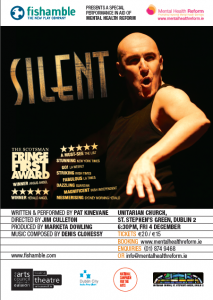 Fishamble's Silent by Pat Kinevane is a stunning one man show. Homeless McGoldrig once had splendid things. But he has lost it all – including his mind. He now dives into the wonderful wounds of his past through the romantic world of Rudolph Valentino.
'A striking performance… the caress of poetry and the disarming direct address of stand-up' – The Irish Times
'Superb audience appreciation' – Irish Theatre Magazine
Tickets €20 (€15 concession) available from Mental Health Reform. Enquiries (01) 8749468.
Your support will help build a strong movement for better mental health services in Ireland.