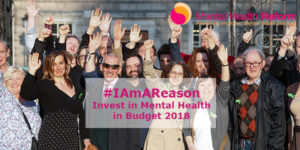 Mental Health Reform's Pre-budget Campaign is calling on the Government to fulfil its commitment to invest at least €55m in development funding for mental health services in Budget 2018.
Why you should get involved:
The facts speak for themselves:
Between 2014 and 2016 the number of referrals to the Counselling in Primary Care Service has increased by almost 30 per cent;
As of July 2017, the waiting list for child and adolescent mental health services was 2,419, with 218 having waited for more than a year;
As of March 2017, mental health services are at just 76 per cent of the staffing levels recommended in the national mental health policy, A Vision for Change.
Ireland spend just 6% of the overall health budget on Mental Health. The UK spend nearly 13%.
br>
[box title="" border_width="2″ border_color="#f6196f" border_style="solid" ]
What actions you can take:
Demand that the Government take mental health seriously by taking the following actions:
Get in touch with your local TDs, MEPs and councillors. Click here to find them quickly.
br>
Tell them that the Government must meet their commitment to invest at least €55m in mental health in Budget 2018. Mental health services urgently need:

24/7 community based crisis mental health services across Ireland;
A nationwide school programme to build good mental health;
Increased staffing levels across mental health services;
A national, electronic mental health information system needs to be implemented;
Development of national, statutory and independent advocacy services for both children and adults with mental health difficulties in hospitals, day centres, training centres, clinics, institutional-based settings and
throughout the community, building on existing services.
br>
[/box]
Useful information: