A report published today by Mental Health Reform, the national coalition on mental health, has found that digital technology could play an important role in mental healthcare in Ireland. The report, entitled eMental Health: State-of-the-Art & Opportunities for Ireland, was launched today by the Minister of State for Mental Health and Older People, Jim Daly, TD as part of the eMEN project funded by the Interreg North-West Europe Programme and the HSE.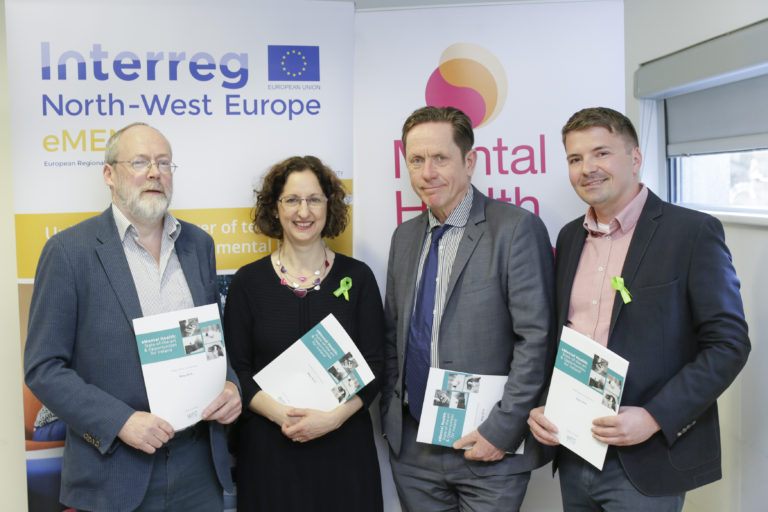 The report, by Kevin Cullen of the Work Research Centre (WRC), provides an overview of eMental Health applications that may be helpful for the large numbers of people with common mental health conditions such as mild-to-moderate anxiety and depression, as well as applications relevant for people with more severe and enduring conditions.
Speaking at the launch of the report, Director of Mental Health Reform, Shari McDaid, said, "Valuable opportunities exist to exploit eMental Health technologies within the mental healthcare system in Ireland. eMental Health offers people easier access to mental healthcare, and increased choice and control over their own treatment. Rooted in Mental Health Reform's value of empowerment of individuals who use mental health services, we are particularly interested in the possibilities digital technology can open up for people to take the lead in their own recovery."
eMental Health also can help overcome some of the very significant challenges mental health services currently face in Ireland including the large treatment gap.
Maurice Farnan, Programme Manager in Mental Health services stated, "HSE Mental Health Services welcomes this timely report on eMental Health services. eMental Health provides considerable potential for an improved service offering in Mental Health services. It offers opportunities to provide information, supports and treatment to people with mental health issues and the wider population. The HSE is pleased to note that the report parallels work that is on-going in the area of eMental Health in the Mental Health Services. HSE Mental Health Services looks forward to working with all stakeholders across NGO and statutory sectors to provide enhanced eMental Health services.''
Kevin Cullen, author of the report, noted that, "The eMental health field is broad in scope. Research evidence is important to guide policy and practice in this field in Ireland. The growing body of available evidence suggests a potentially valuable contribution of eMental Health, both in the delivery of mental health services and in supporting self-help activity by people with mental health difficulties themselves. However, the evidence also underscores the continued importance of traditional face-to-face talking therapies and these will continue to have a central role in mental health treatment and recovery for many people. A key challenge is to find the best way to offer eMental Health as a component of responsive mental healthcare pathways that can tailor services to meet different needs and accommodate user preferences as much as possible."
Dr. McDaid concluded, "We hope stakeholders will find that this report provides them with a useful framework for developing a shared understanding of the eMental Health space which can inform the preparation of a national eMental Health strategy."

Resources: