Mental Health Reform has today (03/06/2015) described implementation of the national mental health policy A Vision for Change after nine years as "incomplete and uneven", despite pockets of innovation.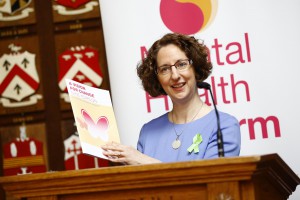 Dr Shari McDaid, Director of Mental Health Reform, said: "This report acknowledges the progress that has been made and the staff whose commitment has helped to bring about change so far. Despite this, there is no doubt that the mental health system envisaged in A Vision for Change has yet to be realised across the country, with negative consequences for the mental health and well-being of the population."
"As the lead agency responsible, the HSE's ability to put this policy into practice has been hampered by shortages in staffing, largely a hangover from the first few years of the recession when 1,000 mental health nurses were lost. Although we have seen additional allocations of funding in recent years, staffing still hasn't recovered to pre-recession levels, and is still almost one-quarter lower than the level set out in A Vision for Change in 2006. All of this leads to the current situation of rising child and adolescent waiting lists and difficulties for adults seeking emergency treatment," continued Dr McDaid.
"Of particular concern is the lack of progress in long-neglected services such as mental health care for people with intellectual disability and for children and adolescents involved in the criminal justice system. These are particularly high risk groups which should be prioritised for mental health service development," Dr McDaid continued.
"A Vision for Change highlighted that people who use mental health services and their families wanted to be listened to, to be treated with respect, to have a say in their own treatment. These qualities do not cost money and yet are not universally experienced across the country. People have a right to expect quality services that reflect the principles of A Vision for Change when they seek mental health supports," continued Dr McDaid.
"We hope that this report will contribute to the renewal of Ireland's mental health policy for the next ten years. Whole-of-government action is vital. Mental health is not only an issue for the HSE. Grinding poverty and the lack of secure housing and employment are not good for anyone's mental health, let alone those already in distress. Key to the future recovery of people with mental health difficulties will be how much Government Departments work together and take responsibility for promoting the well-being and social inclusion of those with mental health difficulties," Dr McDaid concluded.
Ends
Notes to the Editor:
Mental Health Reform is the national coalition promoting improved mental health services and the social inclusion of people with mental health difficulties. The coalition currently has 51 members. See www.mentalhealthreform.ie/membership/ for more details.
A Vision for Change is the Government policy for mental health. It was first published in 2006 with an implementation target of 10 years. It marks a shift from institutional-based care to modern, multi-disciplinary, recovery-focused and community based mental health services.
For more information and to arrange an interview with Dr Shari McDaid please contact:
Lara Kelly, Communications and Campaigns Officer, at lkelly@mentalhealthreform.combinedmedia.com 087 6189715