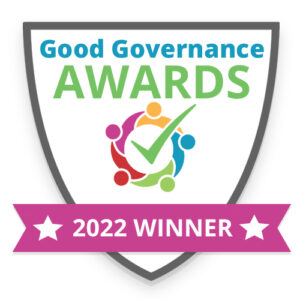 25 November 2022 – Mental Health Reform is delighted to have won a Good Governance Award, in the category for organisations with an annual turnover of between €250,000 and €1 million. 
The Good Governance Awards recognises and encourages adherence to good governance by non-profit organisations in Ireland. The awards were developed by Carmichael with support from their partners and leading national bodies in the non-profit sector.
Mental Health Reform has won the award in recognition of its 2021 Annual Report.
Róisín Clarke, Interim CEO, Mental Health Reform said: "Our annual report represents a valuable opportunity for Mental Health Reform to showcase our commitment to good governance, transparency and accountability. 
Together with our 80 member organisations and supporters, we advocate for improved mental health services in Ireland. Our annual report is an illustration of our continued progress as a coalition, underpinned by our vision, people and processes.
I would like to thank our staff and board members who ensure we deliver our work to the highest standard possible. We are honoured to be recognised as leaders in the field of good governance."
Other winners of the 2022 Good Governance Awards include NiteLine, Breaking Through, The Ark, Jack and Jill Children's Foundation, Barnardos and Trócaire. Find out more about the Good Governance Awards.