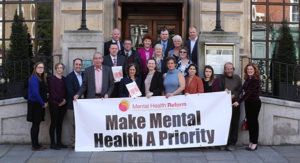 Launching its submission to the Dept. of Health on their review of the national mental health policy, A Vision for Change, Mental Health Reform, the national coalition for mental health, has today called for a rights-based approach to review of Ireland's mental health policy. The submission, based on in-depth consultation with the coalition's 60 member organisations, its advisory groups and other mental health experts, outlines the coalition's vision for reform of the Irish mental health system. The submission was launched by former CEO of Mental Health Ireland, Orla Barry. Speaking today at the launch, Shari McDaid, Director of Mental Health Reform, said,
"We are now eleven years on from the publication of Ireland's national mental health policy, A Vision for Change, and while it was considered progressive at that time, the environment has changed requiring an updated policy," said Dr. McDaid.
"Many feel left out of our current mental health policy – people who struggle with addiction and mental health issues, people from ethnic minority groups, the huge numbers of children and adults experiencing homelessness, and others for whom our current system fails to provide an adequate response. We need not only implementation of what was promised, but an expanded vision that includes them," continued Dr. McDaid.
"In particular we have highlighted the need for any revised national mental health policy to be focused on the principles of rights, respect, partnership and inclusion. As stated by the UN Special Rapporteur on the Right to Health, we need to move towards mental health systems that are based on and compliant with human rights. Ireland's mental health policy must support the evolving human rights framework reflected in the UN Convention on the Rights of Persons with Disabilities," continued Dr. McDaid.
Dr. McDaid concluded, "We have provided the Department of Health with an action-orientated set of recommendations and we believe that these recommendations can make a useful contribution to the Oversight Group as it develops an up-to-date policy for mental health."
ENDS