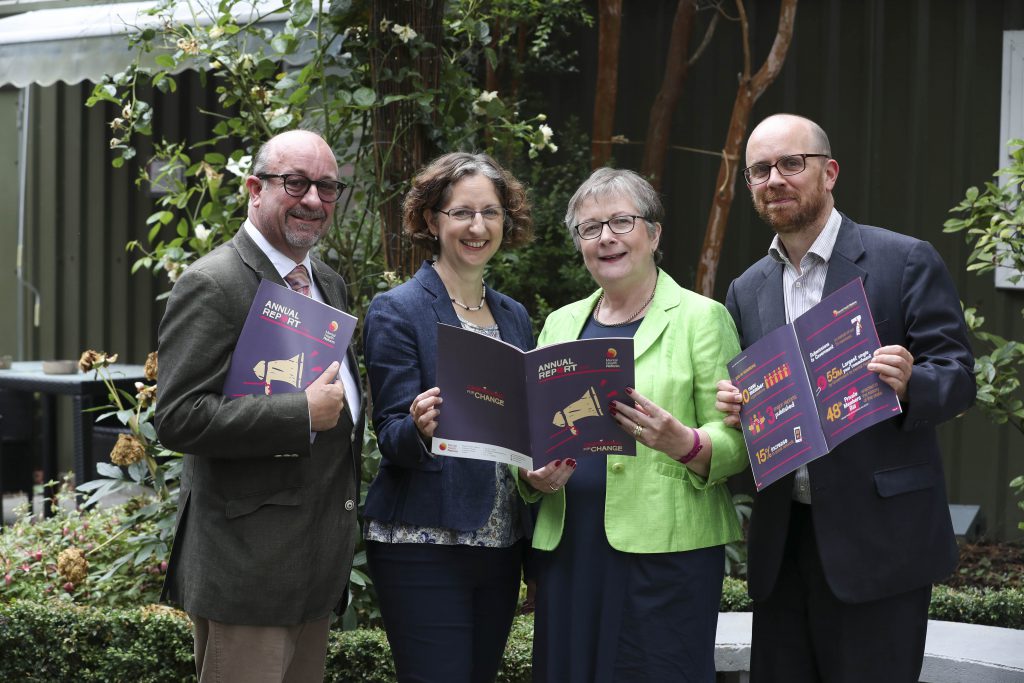 Today, July 10th, Mental Health Reform launched the Annual Report 2018.
The Annual Report was launched with many members of the national coalition for mental health present, at the AGM 2019. During the AGM, both the Board and Executive of Mental Health Reform outlined the work being done by the national coalition towards the vision of an Ireland where everyone can access the support they need to achieve their best possible mental health.
Chairperson of Mental Health Reform's Board, Prof. Agnes Higgins, welcomed everyone to the launch and outlined the day's plans. Prof. Higgins also outlined some of the achievements from 2018 including:
the IEMHS project on integrating employment programmes in mental health recovery
the eMEN project on eMental Health
submissions on the refresh of A Vision For Change
training of peer research assistants for My Voice Matters
Prof. Higgins continued by exploring additional submissions that were made by Mental Health Reform to the Oireachtas, Government Departments, and other agency bodies during the year including:
Child & Adolescent Mental Health Services standard operating procedures
the Oireachtas Committee on the Future of Mental Health Care
Pre- Budget submission
Adult Safeguarding
and Deprivation of Liberty Safeguards
Some of the outcomes of the work include:
the highest ever additional investment (€55M) for new developments in mental health services
commitment to roll out of 7 day a week crisis service for adults
and commitment by HSE to look at extending hours of CAMHS
Key highlights from the Annual Report 2018 include:
10 new members to the national coalition for mental health
3 major reports published
15% increase in social media network
7 submissions to Government
and the 48th private members bill in the history of the State to be enacted.
Some additional discussion points during the AGM include: 
Lar Malone, Expert Director for Finance is shared the financial updates from 2018, including the move to SORP accounting and updating of policies to further strengthen our Governance
David Keegan of First Fortnight was successfully ratified as the newest member of Mental Health Reform's Board of Directors
Oliver Duffy and Áine Hynes stepped down from their roles on the Board – their contributions and dedication to the work of the organisation was highly praised
From the Board and staff of Mental Health Reform, thank you to all who attended the Annual Report 2018 Launch and to everyone who played a role in the all that was achieved last year.