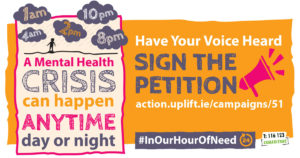 Click here to sign the petition
Click here for a full breakdown of MHR's position on 24/7 crisis mental health services
Mental Health Reform has relaunched the campaign for 24/7 crisis mental health services in every community across Ireland.
Last February, the then Minister of State Helen McEntee, TD promised a roadmap for improved out of hours access to mental health services, but after nine months no roadmap has been published. It's time to let the new Minister of State Jim Daly, TD know that we need action on this issue.
The #InOurHourOfNeed campaign already has over 12k signatures on Uplift.ie, calling on Minister of State for Mental Health and Older People Jim Daly, and the Minister for Health Simon Harris, to deliver 24/7 crisis mental health services.
People dealing with a mental health crisis should not  be required to go to A&E in the middle of the night or during weekends, where they often face long waits and a lack of immediate specialist care.
The delivery of holistic 24/7 community based mental health services can happen in different ways depending on the local area. One short-term improvement would be to ensure specialist staff are available through 7-day-a-week direct access mental health clinics, supported by around the clock telephone support. This system would be far more efficient than catering for all mental health crises through A&E, and could be rolled out nationally within one year.
If you need to talk to someone right now – call Samaritans on 116 123.
If you want to find out about mental health services in your area – visit yourmentalhealth.ie.